Mortgages for buyers with a 5% deposit are back on the shelves. But, as Miles Robinson explains, there are a few things to watch out for to ensure you make the best and most informed choice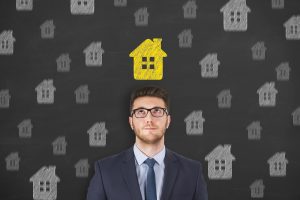 Buying your first home is an exciting milestone. However, rising house prices and saving for a big enough deposit can make getting onto the property ladder challenging for many hopeful first-time buyers.
With this in mind, it's positive that the government-backed 95% loan-to-value (LTV) mortgage guarantee scheme has been introduced, opening up another option to homeownership for those who want to buy.
What is a 95% LTV mortgage?
A 95% loan to value (LTV) mortgage allows you to borrow up to 95% of the purchase price of your chosen property. You would need you would save up the remaining 5% as your deposit.
The new 95% LTV mortgages are available to first-time buyers, home movers or remortgagers.
The scheme is being supported by a range of lenders including major banks such as Nationwide, Barclays, Lloyds, HSBC, Natwest and Santander.
How will first-time buyers benefit?
Higher loan-to-value mortgage products offer another route to homeownership for first-time buyers and those with smaller deposits. For those who are renting while trying to save a housing deposit, this path might help you to get on the property ladder that little bit sooner.
Mortgage calculators are useful tools to help you determine how much you might be able to borrow with a 5% deposit, based on your income. Typically, you can borrow up to four to five times your salary. However, some lenders may allow you to borrow more.
Things to be aware of with 95% LTV mortgages
When it comes to getting a mortgage, we recommend seeking professional advice from a mortgage broker and doing your research.
This will help ensure that you're making the best decision for your own personal circumstances.
There are a few important factors to consider before securing a 95% LTV deal  –
Higher interest rates – The higher the LTV ratio, the more interest you will pay on the loan. This is because you are borrowing a larger sum of the property's value, you are deemed a higher 'risk' to lenders. Therefore, a 75% LTV mortgage deal will likely have lower interest than a 95% LTV
Remortgaging – Although not impossible, it can sometimes be more challenging to remortgage. This is because most mortgage lenders prefer homeowners to possess more equity. It might take a while for you to get your LTV down low enough for you to be eligible for the more competitive rates. If you're able to, overpaying on your mortgage can be an option to combat this as it will help get your LTV lower and reduce interest. Using a remortgage calculator can help you work out if you will save on your mortgage repayments by switching to a new mortgage deal.
Negative equity – This is when your property is worth less than the mortgage secured on it. If the value of your home falls for any reason, there's a chance you could end up in negative equity. The more equity you retain in your property, the less chance of this happening, however it's important to recognise the value of a property can decrease for various reasons so you should always be aware of this.
Alternatives to 95% LTV mortgages
The government offers a number of homeownership schemes to support first-time buyers to get onto the property ladder. It's worth doing your research to find out which one is the most suitable for you:
Stamp Duty
Another important point to be aware of is stamp duty.
The stamp duty holiday deadline of 30 June 2021 is fast approaching. The holiday will then be tapered until 30th September 2021, meaning no stamp duty will be charged on properties up to £250,000.
As a result of this holiday, there has been a "buying frenzy" and many buyers are hoping to complete in time. However, it currently takes an average of 171 days to complete on a property in the UK.
If you're hoping to meet the stamp duty holiday deadline and think securing a 95% LTV mortgage deal is your only option to do this, speak to a broker to discuss all your options.
It has been reported that homes have been sold for inflated prices and are consequently being down valued at the survey stage within the mortgage process.
So, saving for a little longer to boost your deposit size could be worth the wait in the long run.
Miles Robinson is head of mortgages at online mortgage broker, Trussle