Hello From Pagosa Country!
This is my favorite time of the year. Traditional summer is coming to an end and the cooler weather of Autumn is starting the creep in. The 25th Annual Four Corners Folk Festival took place over Labor Day weekend. School started this week and I'm sure a lot of parents are looking forward to having a little more peace and quiet around the house.
Although our school district has decided not to require masks at this time, many are now worried about the Delta variant. But hopefully we can get it under control as more people get vaccinated, wear masks, and continue to take extra precautions.
Our local City Market store has had to shorten their hours to 6:00am to 8:00pm. This is the same story throughout Pagosa and around the Country. Pagosa Springs Medical Center is no longer taking walk-ins on Saturday in their clinic and several of the restaurants have also had to modify their hours due to lack of help. This employee shortage is a result of the epidemic and has been exacerbated by several other factors. One factor is unemployment benefits often pay more than going back to a low wage job. Another factor is the lack of available childcare, and an extra local factor is the lack of affordable workforce housing. Currently, I have one of my employees living in my tipi on my property. I spoke to a restaurant owner a couple of days ago who is buying a travel trailer to house one of her cooks. Housing prices have gone through the roof, and renters are finding that a long-term rental is very difficult to find.
That brings me to my next hot topic, which is vacation rentals. This issue has been debated for the last couple of years, and now changes are in the works. The Pagosa Lakes Property Owners Association is tripling their annual short-term rental fee from $265 to $795 starting the first of the year. The Town of Pagosa Springs is getting very aggressive with new rules. There will be a limit of 10% for vacation rentals in the Town, and in order to apply you must have owned the property for a minimum of two years. Once you sell your vacation rental, the license is not transferable.
The County has recently raised their short-term rental application fee from $400 to $700 and added more stringent requirements regarding how many guests can stay in a particular property. In addition, several subdivisions have recently voted to restrict short term rentals. The end-result of all these new rules will be fewer options for homeowners to subsidize their costs with rental income.
There are pros and cons to all of this. With fewer vacation rentals, we may have more long-term rentals available, which would be helpful for workforce housing. However, property owners' rights are being compromised, and many properties will become less marketable and less valuable. The typical Texan buying a second home in Pagosa may only plan to use the property a few weeks or a few months a year. This buyer will be less likely to buy a home where they can't subsidize their cost with short-term rental income. Homes and condos with fewer deed restrictions and rules will become more valuable.
Now for the latest real estate news. I just returned a week ago from smoky Lake Tahoe. I was there to attend a conference of Certified Residential Specialists, who represent the top 4% of Realtors around the world. I took several classes that were very informative. The session I enjoyed the most was an economist explaining how our economy has changed as a result of the pandemic. The first words out of his mouth were "There is no real estate bubble." The current market is unlike the recession of 2007 and 2008, and the reason is lack of supply. There are nowhere near as many properties available right now as there were back in those days. Builders are not building enough homes to serve the needs. Sellers aren't selling as often because they can't find anything they can afford to move into after they sell. The end result is home prices are going through the roof.
Building costs are also way up. I just spoke to one of our local builders who told me his material costs have more than doubled over the last year, and his labor costs are much higher as well. I spoke with Ponderosa Lumber about lumber costs today, and they said that prices are starting to come down.
Prices are down about 25% from their peak. I also asked them what time of year prices are generally at their lowest. They told me that March and April are usually the best time to buy.
Then we have land costs. Land prices have spiked as well. One of the most notable changes in the stats is that small-lot sales are up 203%. These are lots under 1/2-acre, mostly in the Pagosa Lakes area. Last year we had 68 sales, and this year we've had 206. Inventory has dropped from 170 a year ago to 50 today. People are finding they can't buy houses because there aren't any for sale, so they're buying land to build houses on. Lastly, the latest stats from the County show that building permits are actually up quite a bit this year. They have issued 108 permits so far this year compared to 85 at this time in 2020.
The economist at the conference also pointed out that we have a bottleneck in the supply chain in a lot of different areas. That has affected not only the housing market, but almost everything else. For example, new cars are just sitting because assembly plants can't get enough computer chips, causing a decrease in supply which in turn causes a demand for used cars forcing those prices to rise. The same thing is happening with appliances, hot tubs, and just about everything else you can name. As a result, prices have been going through the roof. The pandemic saw a lot of folks buying more consumer items versus traveling or going out to dinner. In addition, people also have more money in their pockets because of all the money the government was giving away, and no place to spend it. This lack of supply along with increased labor costs is showing up in our inflation numbers. He thinks that the bottleneck will correct itself in a year or so. Yet, hopefully the Feds do not overspend in the meantime, so that inflation gets back under control. Finally, interest rates are still great. They are fluctuating a little, but not much. In general, the economist at the conference believes the economy will be fine.
The latest Real Estate numbers show the market softening a bit. Total sales are up 73% on the year, compared to 100% a month ago. Home sales are up 35%, and condo sales are up 8%. Land sales are way up by 138%. Inventory for homes and condos is about the same as a month ago. There are 132 properties available today compared to 131 last month.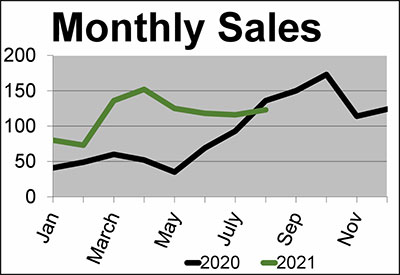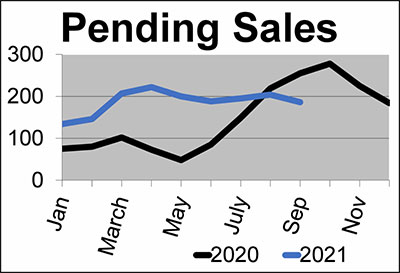 Pending sales are down, with 186 today compared to 255 a year ago. You may remember that last year the pace of sales really took off in the second half of the year. After a dismal first half of the year, we crammed a whole year worth of sales into the fall and winter. It's not surprising that we are behind that pace this year. I expect the rest of the year to continue to be slower than 2020. The pent-up demand has wound down, and there are a lot fewer properties available to sell.
One of the most notable changes in the stats is that small-lot sales are up 203%. These are lots under 1/2-acre, mostly in the Pagosa Lakes area. Last year we had 68 sales, and this year we've had 206. Inventory has dropped from 170 a year ago to 50 today. People are finding they can't buy houses because there aren't any for sale, so they're buying land to build houses on.
So long for now. Enjoy the fall colors, which are right around the corner…
Lee Riley
Pagosa Springs real estate agent Lee Riley has regularly been one of the area's top selling Realtors® in recent years and offers a wide selection of real estate facts and information on his web site at ISellPagosa.com