California housing is in crisis. The state has half of the country's 10 most expensive residential real estate markets, and more than a quarter of the nation's homeless population.
But a new flashpoint is emerging for California lawmakers caught between wanting to tackle the crisis by speeding up home construction, and meeting the escalating demands of a key constituency.  
California's umbrella organization for unionized construction workers is pushing for a new legislative provision that would essentially require affordable housing developments to use union labor. Leading affordable housing advocates say such a requirement would make it harder to build in a state that desperately needs new homes, adding to a litany of obstacles already bedeviling housing production.
The legislative language, which extends a mandate that currently only applies to large government projects, would force developers to hire through apprentice programs mostly run by unions, to the detriment of local non-unionized workforces. Given a shortage of union construction workers, the mandate could not only increase costs; it could also make affordable housing impossible to build in less populated areas that may not be able to draw enough union workers, according to advocates, contractors and developers. The California Housing Consortium, which backs policies boosting homes for low- to moderate-income residents, says it's found no comparable restrictions in other states.
But Robbie Hunter, president of the State Building and Construction Trades Council, which is pushing the measure, says the proposed requirement "gives another layer of safety," and union workers are less likely "to stay silent if they're being cheated."
The group has succeeded in inserting the provision into several bills making their way through the legislature, and it may also end up in an affordable housing funding measure backed by Governor Gavin Newsom, who is facing a recall election. In May, Newsom signed legislation affecting a limited number of housing developments that included the additional requirement that construction labor include a "skilled and trained workforce," the shorthand term for the mandate.
Affordable housing developers and contractors dispute that the provision does anything to boost workers, citing the current "prevailing wage" rules that ensure union-level compensation for all workers.  
"We're fine with well-paying, livable wages paid to construction workers," says Ray Pearl, executive director of the California Housing Consortium, adding that the proposed mandate "simply limits who can do the work, and we don't believe there should be a limit on who produces the housing."
In California, where even a literal shadow over a park can derail a housing development, the looming workforce requirement could be yet another obstacle to building homes and taming prices, from steep costs for building materials to outdated and racist zoning rules.
"There's just not enough construction workers to fill the need out there," says Larry Florin, president and chief executive officer of Burbank Housing, a Sonoma County nonprofit. "And so why now, when there's a housing crisis, would you attempt to impose a program that has a potential implication for causing major disruption in the production of housing?"
But members of the Democratic-majority legislature say it's difficult to pass anything without the trade council's support.
"The trades have a significant role to play," says State Senator Scott Wiener. The San Francisco Democrat has succeeded in pushing housing legislation but has also drawn the ire of the construction group, known colloquially as the trades, who ran an ad against him last year that was criticized as anti-Semitic. "And it's important for the trades to be part of the process."
Even before the coronavirus pandemic hit, California was failing to meet its housing goals. It's supposed to build 180,000 homes annually, but production has fallen far short of that for more than a decade. For affordable homes in particular, the state needs to build 1.2 million by 2030 to keep pace, according to a March report by the nonprofit California Housing Partnership.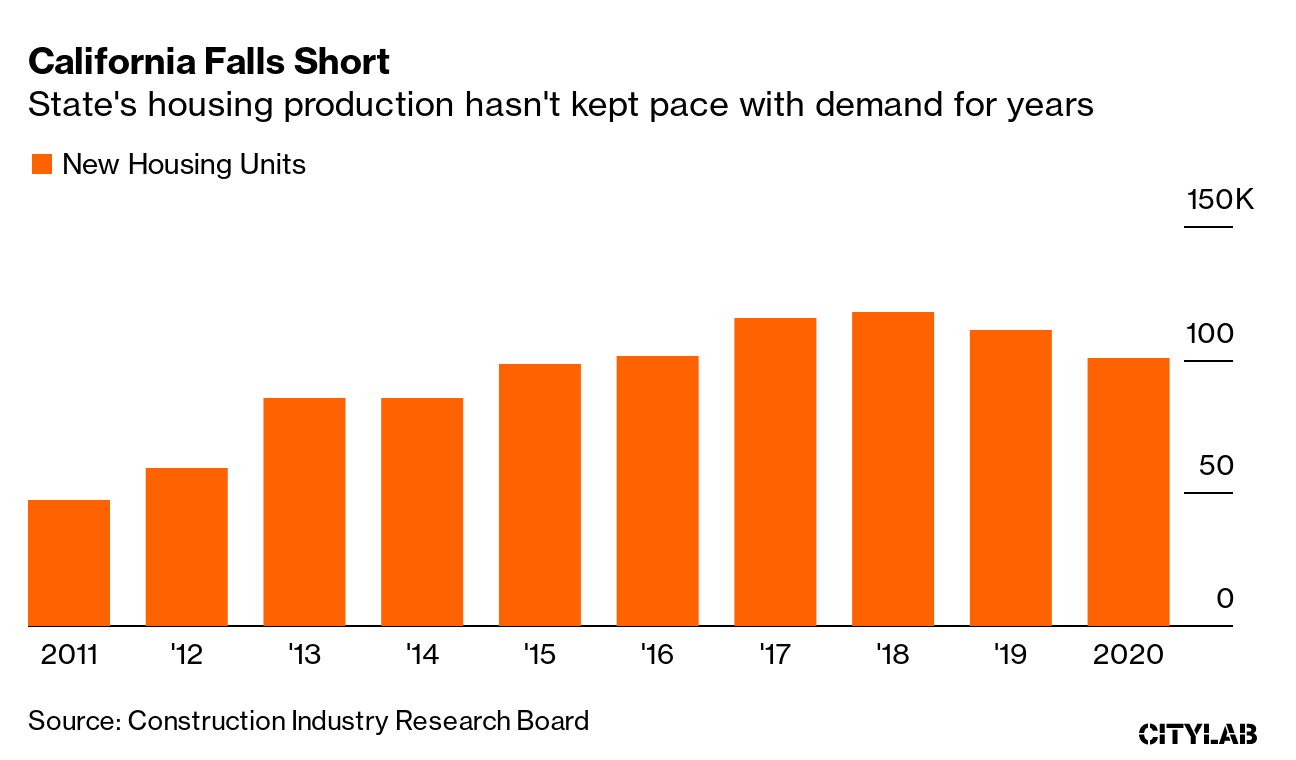 Hopes of significant progress emerged in 2017, when Wiener successfully championed a key bill to streamline housing approvals, which didn't apply the "skilled and trained" provision for affordable housing developers. The next year, the trades council and the affordable housing community teamed up to win voter support for bond measures funding housing programs.
But the détente screeched to a halt last year. In a legislative session truncated by the pandemic, the unions blocked proposals such as a Wiener bill that would have made it easier for religious institutions and nonprofit colleges to build housing on their property. While the measure required prevailing wages, the bill didn't include the workforce provision.
Affordable housing developers who receive some sort of state and federal support through avenues such as tax-exempt bonds, tax credits or grants already must pay wages set to union scales to all workers. Asked why a mandate to hire workers through apprentice programs is necessary given that, Hunter, the labor group president, says, "Laws don't always protect people from people that cheat and do bad things."
A 2019 report commissioned by his organization shows that fewer than 18% of construction workers in the state were unionized. The residential construction workforce never fully recovered after the housing bust, it notes, and the shortage of workers is contemporaneous with that of housing production.
Adam Fowler, director of research at Beacon Economics, LLC, says that after the Great Recession, many people in building jobs retired early or moved into other careers. Asked if there should be a pipeline of workers before the union's requirement is implemented, he says, "There's probably some middle ground of phasing those requirements in. I do think the shortage right now is really tough to navigate."
He adds, however, "I don't want to be too ivory tower. In California, you need the construction trades at the table, or we can just wash our hands because the coalition to get meaningful change around density, zoning, and other really necessary regulatory changes needs those folks at the table."
Affordable housing developers want the ability to proceed with projects if they're unable to find workers through the apprentice programs or if the bids come back too high. So far, bills proceeding with the requirement don't offer that.
Even if a developer in a rural area manages to secure union labor, the mandate could compound the difficulty in winning approvals from municipal governments already reluctant to green-light affordable housing. They would have another reason to reject development if the local workforce would lose out on the jobs, says Rob Wiener, executive director of the California Coalition for Rural Housing (no relation to Scott Wiener).
"If we are forced to import non-local labor from the San Francisco Bay Area or Los Angeles region, that could be the kiss of death for many of our members' projects," he says.
The local workforce is a concern for State Senator Anna Caballero, whose district is largely rural. But she still supports the trades council's restriction, which is in the bill to permit housing development on blighted office and retail spaces. That bill is progressing in the legislature, while a similar one in the state assembly without the union demand stalled.
The union's push for the staffing requirement "makes logical sense" given that by expediting the approval process, her bill would remove labor's ability to go before local governments and protect its interests, she says. "It's a give and take discussion."
Caballero says she's requesting commitments from the unions for training programs in her district to ensure local residents get to do the work. But there's no such language in the bill or an agreement to that effect yet.