For many of us, organizing a pantry can seem like a mammoth task that we just don't know how to start. But the pantry sits at the heart of the home, offering a bird's eye view of the food you have (or haven't!) got in stock—so it's important that it stays neat, tidy, and well organized.
Centuries ago, pantries were used solely for the storage of baked goods; in fact, the word 'pantry' is a nod to pain, the French word for 'bread'. In fact, they were originally incorporated to help keep food cool prior to the invention of refrigerators. In the Victorian era, the pantry had an upgrade and became a defining feature of larger homes. It wasn't uncommon for properties to boast a 'butler's pantry' – a separate room or walk-in cupboard that could accommodate not only edible items but also glassware, crockery, and silverware. Flash-forward to now and the pantry has had a thoroughly modern makeover, playing host to cooking staples, kitchen cleaning products, and even kitchen appliances (think the blenders and food processors). 
A common misconception is that only larger kitchens can reap the benefits a pantry has to offer. However, that's not true, say interior designers Vanessa Arbuthnott and Roselind Wilson. "Any home can have a pantry," Vanessa explains. "There's no doubt that it looks better if hidden, but if well-organized, a pantry can look very homely even if displayed on open shelves". Roselind agrees, adding, "A pantry is so useful and if it's not a separate space in your home, it can easily be made into a beautiful feature of any kitchen."
How to organize your pantry
As with anything, organizing your pantry is about deciding how you can make it work best for you and the unique needs of your home. But first, you need to know the best methods for organizing a pantry – and never fear, as there are a few simple ways to do that…
1. Organise the contents by food type
One of the main benefits of organizing a pantry is to make it easy to see – at all times – what foodstuffs you have in stock. Arranging your pantry by food 'genre' is a great way to not only see what you have to hand at any given time but to also allow you to always find items with ease. "For example, group all the tins on one shelf, the jars on another, and so on," suggests Vanessa. "As well as allowing you to be more aware of sell-by dates, it also allows for decluttered thinking!" 
2. Use glass jars and labels
When it comes to pantry storage ideas, you can't go wrong with something as timeless as glass jars and handwritten labels. "You can use these to organize rice, flour, sugar, herbs, tea… The list goes on!" says Vanessa. "Buy the jars second-hand via eBay or from a charity shop; alternatively, collect jam jars, run them through the dishwasher, and reuse them for storage."
---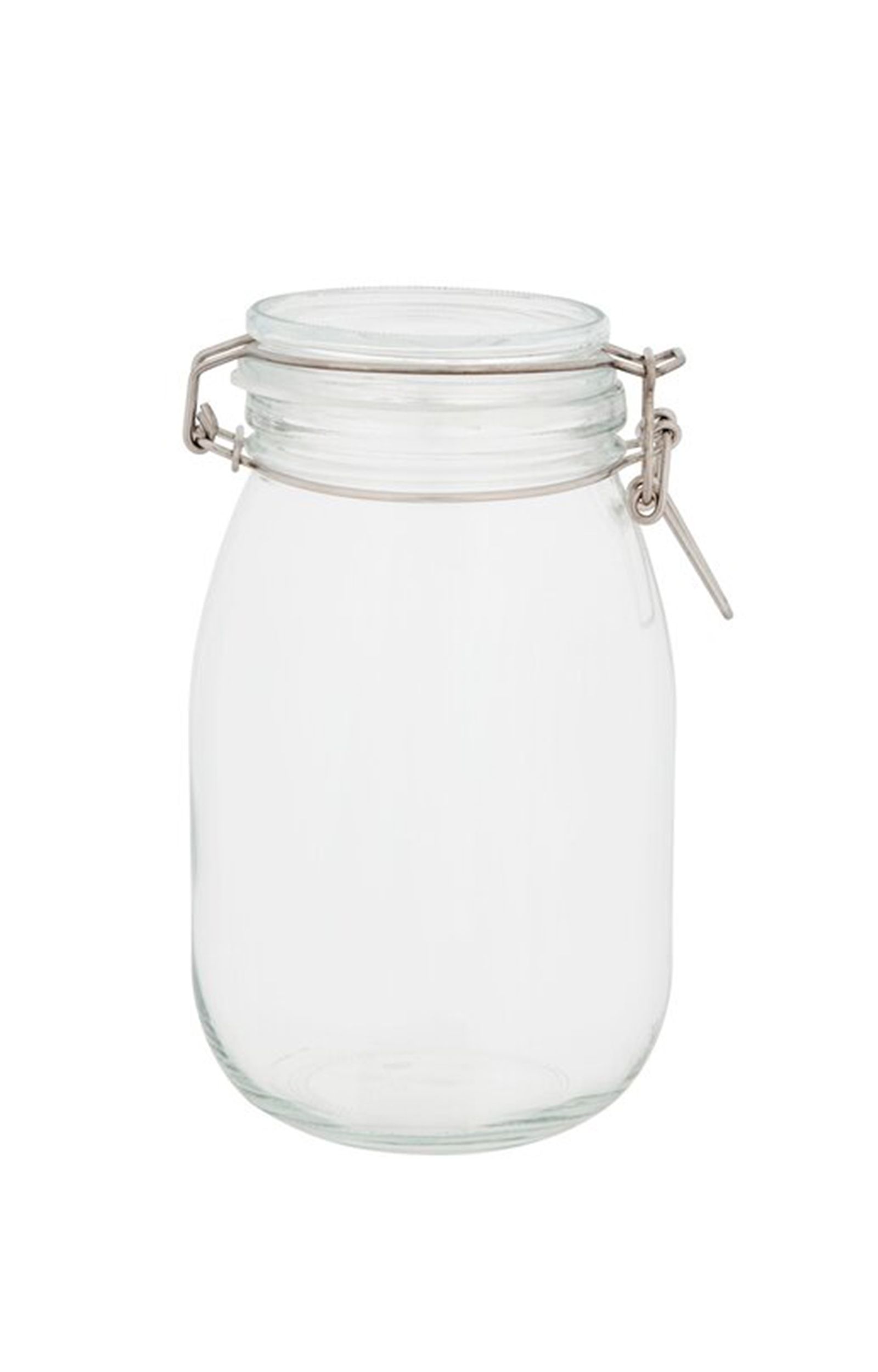 Tesco Clip Glass Storage Large: £3 | Tesco
Sponsored
If you're looking for affordable glass jars to spruce up your space, we love this practical offering from Tesco. It features a clip top to ensure your jar is secured shut and the glass finish makes for a super chic look. This particular jar also comes in a number of shapes and sizes so that you can really personalize your space and make sure that all of your ingredients have a space of their own.
3. Use different storage for different food
Why limit yourself purely to shelves when organizing a pantry, when you can play around with different storage solutions instead? Incorporate everything from vintage boxes to minimalist storage baskets to create a pantry that not only has clearly denoted zones (such as dried goods, tins, liquids, and so on) but is also playful in its styling.
4. Keep essentials easy to access
Only you know your kitchen essentials – the items you're most likely to reach for in your pantry – so ensuring they're easy to access at all times is crucial to the success of your space. Regular baker? Keep those supplies of flour, sugar, and spices on a lower-level shelf close to the door. Unlikely to touch that bulk-bought supply of tinned fish for a while? Store it securely higher up, so you've got more space for those important must-grab items. 
5. Reuse old food containers
Don't bin or recycle larger food containers, advises Vanessa – think eco instead. "Make use of them to store food in and keep order. Think Tupperware, ice cream tubs, large jam jars, cleaned takeaway containers…" Just make sure you clearly label what's where to avoid any confusion!
6. Double-up as an appliance zone
If worktop space is limited in your kitchen, consider using your pantry as a double-up area where appliances – such as a coffee machine or your best induction pans – can be stored and used. And on that note: "it can be nice to make an allowance for a plug point in the pantry area," suggests Roselind. 
7. Use baskets for fruit and veg
Straw baskets or boxes can make creating a DIY pantry system that bit easier – all you need is somewhere to put them! Be sure to add descriptive labels to each of your baskets or boxes so as to make maintenance simple, and work out in advance where you can display them so they're easily accessible. And be sure to follow these steps to get rid of fruit flies and keep them away from your fruit and veg baskets!
8. Use hooks to display food
Hooks are a great way to display the contents of your pantry, without the need for additional shelving. In fact, they are one of our favorite ways to begin organizing a pantry. "I have my recycling containers in the same space, and they're hung on hooks against the wall, under the food shelving," says Vanessa. "Hooks can also be used to hang baskets filled with crisps and biscuits." 
Tips for designing your pantry 
If you really want to maximize the space in your pantry, these DIY projects can help. Adding in some extra shelves, or a hidden draw can create some much-needed space that will help you organize foods more effectively. 
1. Choose narrow shelves for small spaces
Strapped for space due to narrow dimensions or a galley kitchen layout? Don't panic – pantry-esque storage is still completely doable. "Consider long thin shelves, with enough depth for two cans or a bag of flour," suggests Vanessa. Need to utilize an up-the-wall space to fit in your storage? "Higher shelves on runners can offer easy access to the contents of your pantry," adds Roselind.
2. Consider drawers for super-neat storage
A pull-out drawer system (or pull-out wire shelves, for that matter) could work wonders when organizing a pantry, combining a neatly concealed storage option with an easy-access design. For a DIY project strictly not for the faint-hearted, remove the sides of an existing cupboard and add in your own shelving. 
A set of kitchen drawers could also work for smaller items – but if you're planning to build them upwards, be aware that they aren't always strictly practical. "They're only practical to a certain level as after a certain height, you cannot see into them," explains Roselind. "Drawers at a lower level are preferable as you can easily access them."
3. Floor-to-ceiling shelving creates space
Got a space that boasts high ceilings? Choosing floor-to-ceiling shelving is a great way to not only add a statement touch to your home but to also max your pantry space. "A bespoke ladder on railings would not only complete it perfectly but would also allow you to reach those higher shelves," says Roselind. "Some clients prefer to opt for a stepladder that can be stored elsewhere if an attached ladder is too cumbersome for permanent display."
4. Add sliding doors to conceal any clutter
Incorporating sliding doors into an otherwise open-plan pantry comes with a number of benefits. For one thing, it's a great way to tie your pantry into the overall scheme of your kitchen, be it via matching paintwork or brassware. For another, it eliminates the risk of a cluttered pantry encroaching upon your otherwise minimalist kitchen. It's a great way to de-clutter your home, fast. Out of sight, out of mind, and all that…
With thanks to interior designers Vanessa Arbuthnott and Roselind Wilson.