Inforial (The Jakarta Post)

Jakarta   ●  
Fri, June 25, 2021

2021-06-25
08:00
4
6281d9f905b49edfeb97b8e903142719
4
Inforial

Free

Home design enthusiasts rejoice! The German premium brand of bathroom and kitchen fittings, hansgrohe, has now offered two of the most popular lines in surface designs beyond the ubiquitous yet versatile chrome finish.
The hansgrohe FinishPlus allows customers to embrace style across the board, creating a unique bathroom or kitchen ambience that reflects the desired character. For example, the two faucet lines Metropol and Talis E are each available in five new colors.
Along with regular chrome, they are now available in Brushed Black Chrome, Brushed Bronze and Polished Gold Optic – the perfect alternative for those looking for a hint of vivacity. The exquisite metallic colors skillfully combine elegance and modernity, creating appealing contrasts in combination with both dark and bright bathroom interiors.
Meanwhile, the Matte White and Matte Black finishes allow fans of modern architecture and contrasting accents to find the right fixture: striking, but not overpowering. Their elegant simplicity adds the perfect finishing touch to any modern bathroom interior.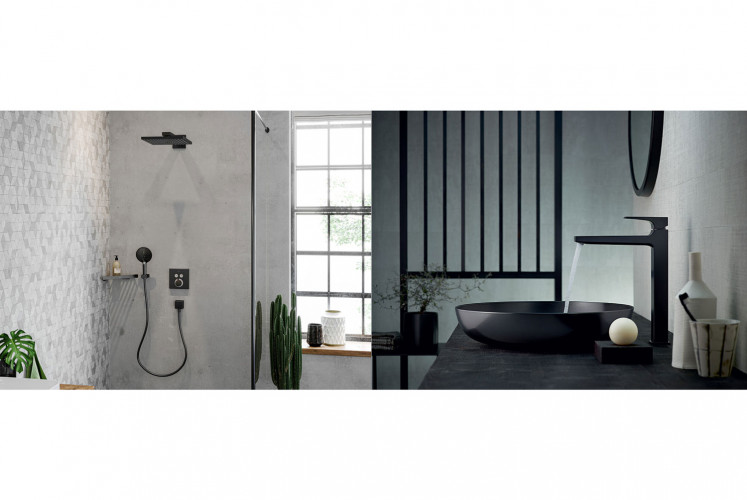 . (Courtesy of hansgrohe/.)
In addition to the Metropol and Talis E faucet ranges, hansgrohe also offers a host of complementary products in other lines with the new surface colors, aiming to create a stylish ambience that lives up to a variety of individual demands. The products range from  showerpipes, shower controls and head showers to angle valves.
The option for the new surface designs allows the customer to add a colorful accent or even give the entire bathroom a new character.
Beyond the surface design, the range of products comes with hansgrohe's signature convenience and design. The Metropol faucet range makes an unforgettably distinctive impression, thanks to its precise geometric design and clear lines, while the Talis E series adds modern yet elegant accents with its narrow tapering shape and perfectly coordinated lever handle and spout, creating a timeless appearance.
Reassuringly, design does not compromise convenience, as the two ranges always offer the right solution for every freedom of movement and bowl size, thanks to their three different ComfortZones.
And if the customer wants to extend FinishPlus to other parts of their homes, the hansgrohe kitchen faucets are also available in the new surface designs.
For more inspiration and additional information on FinishPlus, visit www.hansgrohe-asia.com.