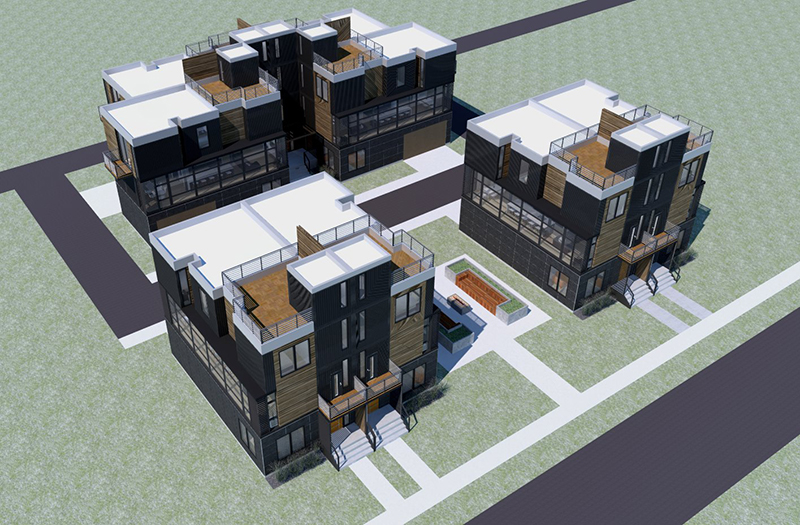 Plans for Containers on College call for eight townhouse units constructed with 32 shipping containers. (Rendering courtesy of Custom Container Builders)
A local developer plans to build an eight-unit townhouse project using 32 shipping containers on vacant property on the near-north side of Indianapolis.
Custom Container Builders plans to spend about $5 million to develop the three-story project on a 0.38-acre site at 1925 N. College Ave.
The firm—which constructed the city's first container-based home on Bellefontaine Street in 2020—expects the units to each have about 1,975 square feet of living space, each with a two-car garage on the first floor. The bedroom and bathroom counts for the units have not yet been finalized, although the homes are all expected to have similar designs.
Each home is expected to feature a rooftop deck area, and all garages will be accessed from the rear of the homes, off of an alley running between College and Carrollton avenues. Four units will face west toward College, with the other four facing east toward the alley.
Michael Lewis, a principal with Custom Container Builders, said he hopes the project helps change perceptions among those who scoff at the idea of living in a home constructed from the containers. He said he expects the market is likely to skew younger for the project—called Containers on College—but is hopeful others will consider the homes.
"My goal is to change people's opinions. When people hear about shipping container projects, most say they can't imagine living in one," he said. "But we can create homes that look like any standard home because, really, most homes are boxes." 
As part of the project, Custom Container is seeking approval to rezone the property, which it acquired in January for about $300,000, to the D-8, dwelling, designation from C-1, commercial. The request was approved by the city's Metropolitan Development Commission hearing examiner last week, with the full commission expected to weigh the request in the coming weeks.
Lewis said the exact development cost hasn't been finalized, but said it would be "roughly" $5 million, including land costs.
The homes will be in the Kennedy King neighborhood, which has seen a spate of new housing in the past few years. The homes are also within a five-minute walk of West Fork Whiskey, Dr. Martin Luther King Jr. Park and the Monon Trail.
And because of the proximity to downtown Indianapolis—Lewis pointed in particular to the Bottleworks project—it's likely the homes will fetch a sum that is well above market.  But Lewis said asking prices haven't yet been determined.
The homes are expected to be completed by mid-2022, since construction is far less reliant on weather conditions than are typical homes.
"We've really tried to focus in on understanding the best way to put things together. There's a lot of value engineering to these, so we can get these down to a reasonable [build] time that's actually a lot faster than a traditional home," Lewis said. "And because they're wind-and water-tight, inclement weather is not as big of an issue."
Custom Container markets its custom-builds across the United States, and has several projects in early stages of development, he said.
The firm is designing the project internally, with Civil & Environmental Consultants Inc. handling some engineering aspects of the development.