If you are looking for ideas to keep kids busy this summer, I have a couple of projects for them this week!
Time spent in the kitchen allows children to let their creative juices flow – the trick is getting them to clean up afterwards!
But a fun, stimulating cooking afternoon lifts the spirits, and not only are they learning life skills but it is a great bonding experience for the entire family.
So, if Bug Biscuits and Chocolate Oat Squares whet your appetite, then I am sure you will have lots of fun with the kids in the kitchen this week. These treats are great packed up for a picnic too – another wonderful experience for the children.
I also have a Kids Cooking Course on my on-line cookery school, which will take your little one form zero to hero in the kitchen, so maybe consider that too.
Catherine
www.ballyknocken.com
Tips for a happy kitchen experience
* Choose the recipe together – it must be something that they will learn from as well it being fun.
* Start small, one little recipe and then progress to a menu.
* Ensure hands are washed first and an apron worn.
* Ensure that they know how to keep safe in the kitchen – have a list and let them refresh themselves by reading it every time you begin a cooking session.
* Use child-friendly knives. I recommend a tomato knife for slicing.
* Have all the ingredients together before they start.
* Ensure that an adult is always with them, even if you have a cuppa and music on.
* Let them experiment; children are creative and confident.
* Have a 10-minute break halfway through.
* Let them be messy – this is a happy mess and they will learn from their mistakes.
* Ensure that they tidy up. It is part of the cooking experience.
Biscuit stamper sets
These are useful when making different flavoured biscuits. They are great fun to work with and are also good on ready roll fondant icing. Westmark Biscuit Stamp Set 6-piece, €13.95+postag, ethekitchenwhisk.ie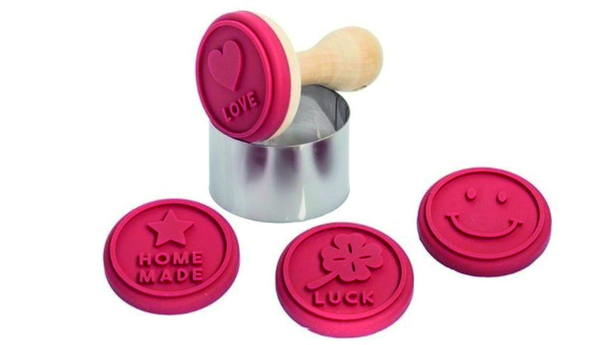 Bug biscuits
The concept is to have a batch made which the children can bake themselves, keep them in a tightly sealed tin and when you want a little treat, spread one or two biscuits with cream cheese or even nut butter and then be creative with different fruits and a little melted chocolate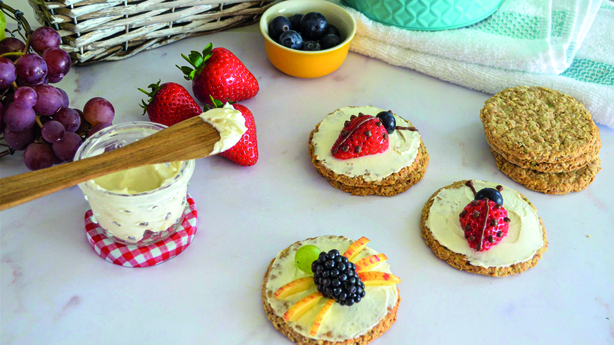 Makes 12
For the biscuits
60ml oil
2 tbsp honey
50ml milk
1 egg, beaten
60g porridge oats
100g wholemeal flour
4 tbsp plain flour
½ tsp baking powder
2 tbsp assorted seeds (sunflower, pumpkin, sesame – anything you like)
For the ladybirds
4 tbsp smooth cream cheese
3 strawberries, halved
6 blueberries
50g chocolate
For the spiders
6 red grapes or blackberries
6 green grapes (if you can choose green grapes that are slightly smaller for the head)
1 apple
You will need a 7cm round cutter
To prepare the biscuits, combine the oil, honey, milk and egg together in a jug and whisk well with a hand whisk.
Place the porridge oats, wholemeal flour, plain flour, baking powder and assorted seeds into a large bowl.
Using a spatula, mix in enough egg mixture to form stiff biscuit dough.
Cut a piece of parchment paper 30cm x 20cm on a surface. Place the dough on the paper and carefully flatten it lightly. Wrap and leave in the fridge for about 20 minutes.
Pre-heat the oven to 180°C/fan 160°C/gas 4. Line a baking tray with parchment.
Roll out the dough with a rolling pin and cut out circles with the cutter. Lift them onto the lined baking tray and bake for about 15 to 18 minutes until golden and baked. Leave on the tray for 5 minutes before moving them to a cooling rack. When cold, place them in a tightly sealed container.
When ready to decorate, take one, using a knife or spreader, spread the cream cheese over the biscuit.
To make spiders, place a red grape or blackberry in the middle of the biscuit. Add a small green grape for the head. Carefully slice 6 legs from a piece of apple and place 3 legs each side of the red grape or blackberry.
To make the ladybird, trim the stalk of the strawberry off and place half a berry on the biscuit.
To melt chocolate, add the chocolate into a small bowl and carefully place this over a saucepan or bowl of almost boiling water. Leave until melted. Spoon the melted chocolate into a piping bag fitted with a fine nozzle or a disposable bag without a nozzle. Snip the tip and draw down the centre of the strawberry half and make dots on either side of the line. Stick a blueberry onto the front for the head with a little chocolate. Draw the antennae of the ladybug onto the biscuit.
Chocolate oat squares
This has the texture of a brownie but the ingredients of a flapjack – oats, honey and seeds added. It is good for young ones to develop their knowledge of food. Your children will give you a huge hug later in life – I promise you!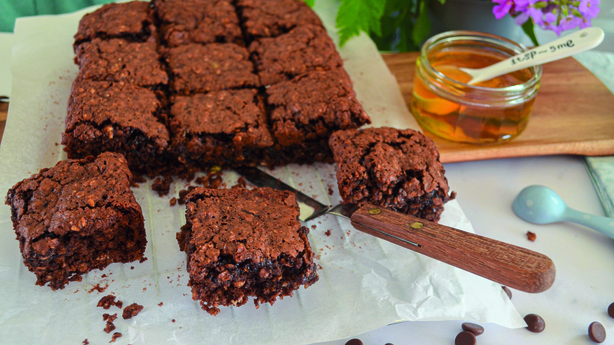 Makes 12
80g butter
150g light brown sugar
70g honey
½ tsp bread soda
3eggs
150g oats
1 tbsp chia seeds
1 tsp sunflower seeds
100g plain flour
3 tbsp cocoa powder
½ tsp baking powder
70g chocolate chips
Pre-heat the oven to 180°C/fan 160°C/gas 4. Line a 20cm x 20cm square tin with parchment.
Place the butter, brown sugar and honey into a saucepan over a low heat and melt. Take it off the heat, add the bread soda, stir and mix well. It will foam, then leave to cool slightly.
Whisk the eggs in a bowl with a hand whisk.
Place the oats, chia seeds, sunflower seeds, plain flour, cocoa powder, baking powder and chocolate chips into a bowl. Mix the eggs into the butter, honey and sugar mixture and pour into the dry ingredients. Mix well with a wooden spoon but do not over mix. Use a figure of 8 motion to mix.
Pour into the lined tin and bake for 23 to 25 minutes or until cooked. The centre will be soft like a brownie. Place on a cooking rack for 7 minutes. Remove from the tin and using a knife or narrow spatula, cut into squares. As the knife becomes sticky, wipe it clean with a damp cloth. Leave to cool completely.