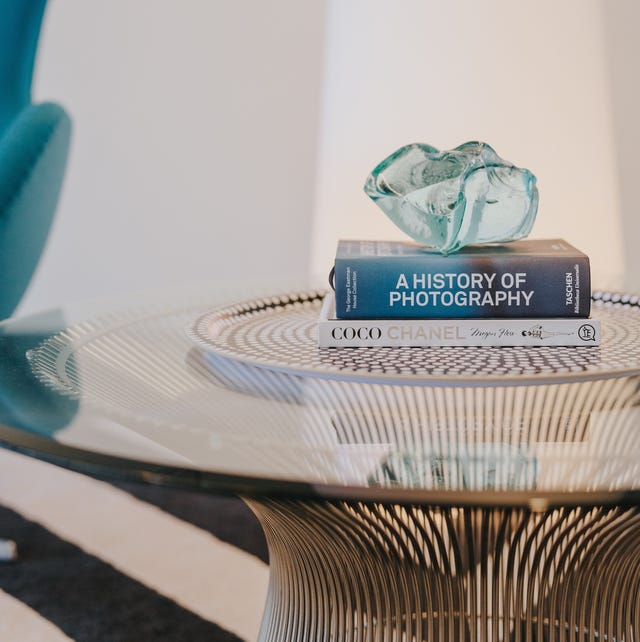 Unsplash/MARK ADRIANE
Sometimes finding those little final details can be the trickiest part of your scheme. From artfully arranging your mantelscape to selecting the right houseplants for the bathroom, it's the little trinkets that work to properly pull a space together.
Naturally, then, your new coffee table will look much better with a couple of coffee table books – and, if you go for a design-themed tome, it might even help inspire or inform you in your next interiors project. And if not, well, who doesn't enjoy flicking through pretty pictures of gorgeous houses?
There are plenty of coffee table books to choose from, ranging from the more practical help guides, focusing on organising and decluttering (The Home Edit has its own book now, fyi) to hefty tomes documenting, with beautiful accompanying photographs, the world's most opulent and luxurious homes (one on this list gives a peek behind the grand doors of Buckingham Palace).
Here are our favourite interior design-themed coffee table books for 2021, so you can give your space that finishing touch it needs, all whilst gathering some inspiration for your next project.
Advertisement – Continue Reading Below
Resourceful Living
Lisa Dawson
amazon.co.uk
£14.10
If you're after that millennial chic look on a budget, this book will be your handy guide. Award-winning interiors blogger, Lisa Dawson, takes you through how to create a thoughtful, curated home using a mixture of inexpensive and vintage finds – as well as those you already own. 
Design the Home You Love
Emily Motayed
amazon.co.uk
£20.00
Forever find yourself scrolling through interiors inspo accounts on Instagram, but don't feel like these perfect homes are really practical for actually living in? This book aims to help – designers Emily Motayed and Lee Mayer have put together a range of really useful tips and tricks to create a stylish, tasteful home that's as practical as it is beautiful.
Individual
Jessica Bellef
amazon.co.uk
£25.00
I have this book and it's a great reference for styling all those little areas that give your home character. Think properly artfully-styled coffee tables, shelves and sofas. 
For the Love of White
The White Company
amazon.co.uk
£19.88
This White Company book is a treat for fans of neutral decor. It explores 12 homes, all in very different styles, but united by their crisp white interiors. Great inspiration for those who want their interiors truly timeless. 
Architectural Digest at 100: A Century of Style
Architectural Digest
amazon.co.uk
£43.81
The editors behind Architectural Digest have painstakingly scoured through their archives in order to find the most sophisticated properties of the last century and brought them together in one beautiful book. You can take a peek inside the homes of dozens of famously private celebrities, including Barack and Michelle Obama, David Bowie, Truman Capote and Michael Kors, and learn more about the works of esteemed architects and designers such as Frank Gehry, David Hicks, India Mahdavi and Peter Marino.
Accidentally Wes Anderson
Wally Koval
amazon.co.uk
£15.68
If you like Wes Anderson's charming, colourful art style, this book of real-life examples of Anderson-esque places will be sure to delight.
Off the Grid: Houses for Escape
Dominic Bradbury
amazon.co.uk
£24.85
Who hasn't fantasised about escaping their real life and living off-grid at least once or twice? This book provides many jealousy-inducing examples of homes that achieve just that.
Beautifully Organised
Nikki Boyd
amazon.co.uk
£14.49
If you've spent the last year in lockdown furiously decluttering, this book should be your next purchase. It runs through five essential steps to organising all of your items, so your home functions perfectly. 
The Home Edit Life
Clea Sherer & Joanna Teplin
amazon.co.uk
£10.00
Here's another good one by the team behind The Home Edit, for those of you who've got the organisation bug. (If you haven't watched the Netflix show yet, then you really should!)
Live Beautiful
Athena Calderone
amazon.co.uk
£23.86
The woman behind mega-popular style blog Eye Swoon has released an anthology of beautifully designed homes (including two of her own), exploring how the owners' worked to achieve the finished looks. Inspiration guaranteed. 
Mad About The House
Pavilion Books
amazon.co.uk
£13.81
For practical advice on starting from the ground up, this book is great to have on hand. Working through each room in turn, there are plenty of tips on getting the basics right, from choosing the right size of rug for your space to how to buy a sofa. 
Buckingham Palace: The Interiors
Rizzoli International Publications
amazon.co.uk
£27.45
We're all obsessed with the royals, and this book gives us mere mortals all a glimpse into the effortlessly luxurious styling at Buckingham Palace. Something to try to recreate at home?
Eat, Drink, Nap: Bringing the House Home
Preface Publishing
amazon.co.uk
£20.77
If you've been to any of the 28 Soho Houses there are worldwide, you'll appreciate the impeccable taste – and tasty grub. This bestselling book will help you recreate the look and feel of a private members' club in your own space. Very glam. 
Plant Tribe
notonthehighstreet.com
US$42.46
If you told us you hadn't become a bit obsessed with growing your houseplant collection over lockdown, we'd say you were lying. This book provides some leafy inspiration for using greenery effectively in your space to add drama and impact. It'd also make a good gift for a green-fingered friend.
Dreamscapes
Hardie Grant Books
amazon.co.uk
£24.62
This one isn't so much about interiors, per se, but it does contain some of the most gorgeous imagery of gardens we've seen. If you're looking for some post-lockdown gardening projects to tackle this summer, this is sure to inspire. 
This content is created and maintained by a third party, and imported onto this page to help users provide their email addresses. You may be able to find more information about this and similar content at piano.io
Advertisement – Continue Reading Below